London is a thin and very lightweight blouse with three-quarter sleeves. The blouse is super lightweight, weighs just around 150g and is great to wear both summer and winter.
I had only just gotten the Splendid yarn from Lana Grossa through the door when this blouse called out to me. the name became London
Thanks to my beautiful model Charlotte Roest and Photographer Lennart Øster
Size Onesize
Chest measurement 108 cm
Material Lana Grossa Splendid
Usage 5 skeins of base color 1 skein of stripes
Needles 5 and 6mm circular needles in 60 or 80 cm
Gauge 10×10 cm 17 stitches x 27 rows
Recipe
Cast on 168 sts on size 5 needles and place side markers at the beginning of the row and after 84 sts and work in rib as follows :
1., 2. and 3. p. 2 knit, 2 purl
Row 4: Slip stitch (knit the back of the 2nd stitch without taking it off the needle and knit 1 stitch, then take both stitches off the needle)
5.6. and 7th row: k2tog. 2 purl
8th stick : Cheat spinning
Row 9 and 10: knit 2, purl 2.
Change to a 6 mm needle and work in stockinette stitch as follows:
12 p. green
3 p. Black
20 p. green
3 p. Black
20 p. Green
3 p. Black
5p. Green
Bind off 3 stitches on either side of the 2 stitch markers and let the work rest.
Sleeves
Cast on 50 mm on size 5 needles and work 10 rows of ribbing as on the blouse.
Every 4 cm, increase 1 stitch on each side of the marker a total of 7 times
Change to row 6 and continue as follows :
12 p. Green
2 p. Black
2p. Green
Continue with 2 rows of each color until you have 7 black stripes.
Continue working in green until the work measures 31 cm. and bind off 3 stitches on either side of the marker.
Knit an identical sleeve.
Now join all the pieces, but instead of placing markers in the joins, place a marker 2 stitches on either side of the joins, so that there are 4 stitches between the joining markers.
On every 2nd row, decrease on either side of the markers as follows.
Before marker: Slip 1, knit 1, slip the slipped stitch.
After Marker: 2 knit together.
Throughout the raglan decrease, work the 4 stitches between the markers: P1, k2, p1.
Make raglan decreases a total of 23 times. (94 stitches left)
Now work ribbing for the neck with a slip stitch just like on the body and sleeves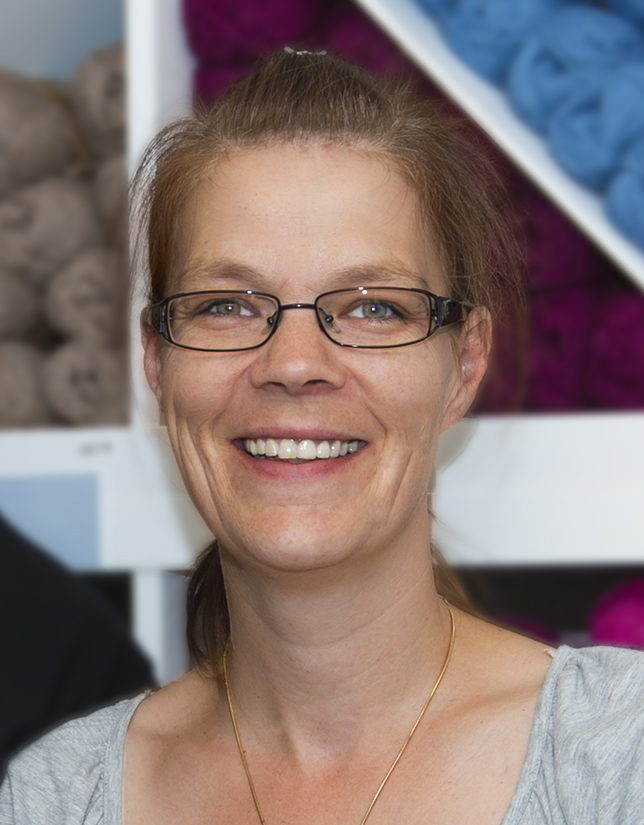 Latest posts by Strikkeekspert Stine Øster
(see all)